Discover more from DJ Mentors | DJ Lessons
The World Needs Better DJs. Why Not You? Why Not Now? Experience The Passion of Mixing Music with our Simple DJ Booth Framework.
DJM-V10 | The DJ Mixer That Changed Everything
The 6 Channel Mixer From Pioneer DJ With Endless Possibilities
When you thought the DJ industry had gone stale, Pioneer DJ comes out with a Mixer that could change the entire music industry.
While most DJs are happy with 2 Channels of audio, others want more. The question is, Why?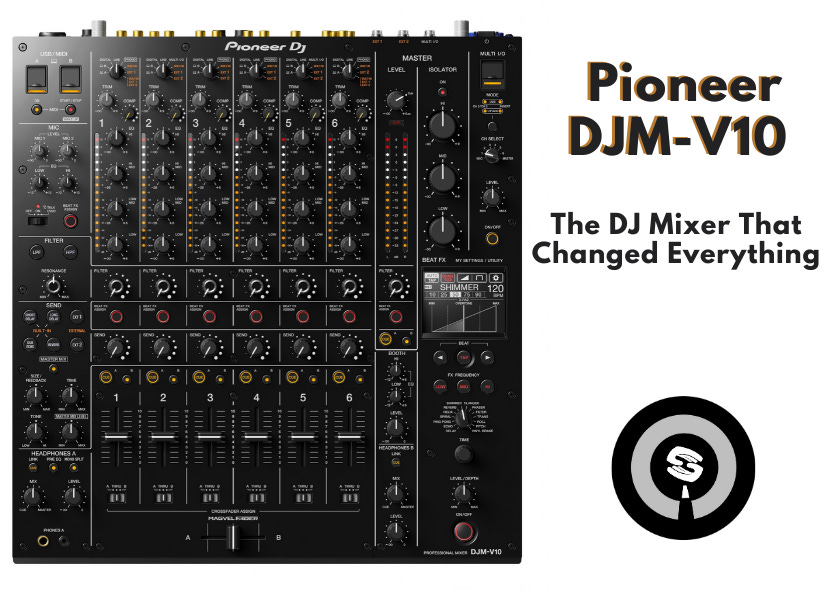 Quick Background
The DJ aims to keep a continuous stream of music. Music rotation and music programming, keep the songs cycling back and forth between two (or more) music sources (channels).
Many Clubs would have 4 channel mixers so DJs can add additional sources, have backups, and make it easier to transition between DJ sets when the next DJ steps up to the DJ Booth for their time slot.
More Channels. So What?
This idea seems simple, although it may just be revolutionary. The possibility of adding new instruments into DJ sets is what has me the most excited.
Add a guitar, electric drum sampler, computer and still have 3 channels to add 2 turntables and a spare.

Is This New?
Well, no. DJ Mixers as far back as the 1980s had more than 4 channels of audio. Pioneer has tried this before with their DJM-1000, a rack-mountable 6 channel DJ mixer. A solution aimed at clubs as an all in one audio/DJ mixer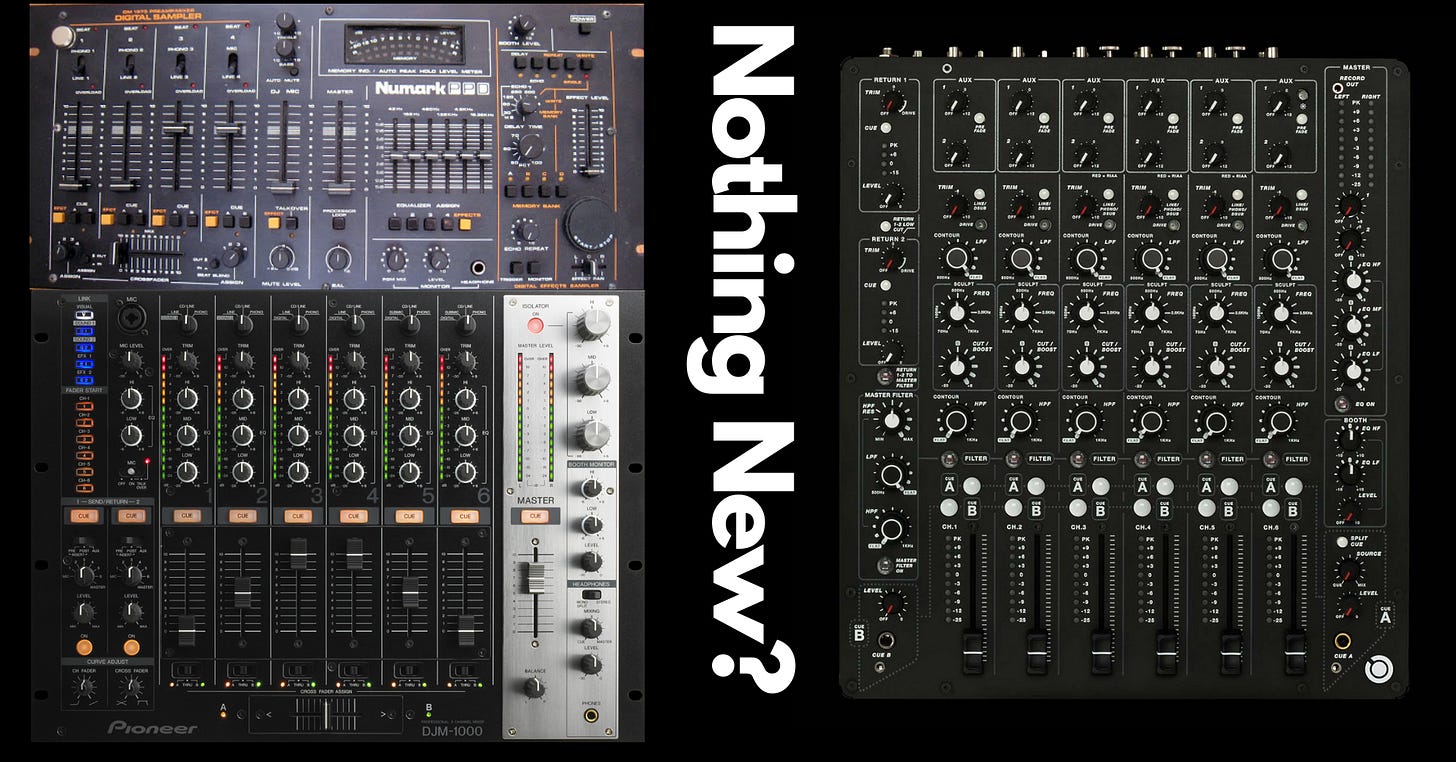 Will This Time Be different?
The Market seems to be sidestepping into a niche as we saw with the Allen and Heath Model 1. Marketing has changed to suit, looking to get DJs on board directly, instead of only targeting the clubs.
The Pioneer DJM-V10 has the ability to add effects dynamically. Cool features include extensive onboard FX, including 4 band EQ, an X-Pad for Effects, and a Compressor for each channel.
Having 2 separate headphone cues means that two DJs can listen to different sources in their headphones when playing back to back (B2B)
The Gateway Drug | Why Audiophiles are Excited About This
As an Audio Engineer, this makes my toes curl. When I started DJing, I knew nothing about a whole new world within the DJ industry called AudioVisual (AV). Where Did the signal go once it left the DJ mixer?
The AV Industry is where Technicians, Engineers, and Producers exist, where the channel count goes up to 96 and beyond. Where studio Mixing Consoles from Neve and SLL sit in million-dollar recording studios.
This mixer is the Gateway between the AV and DJ industry, and as such, we have seen a dramatic boost in audio quality.

Where to Next?
Great questions. As DJs, we innovate. Some up and coming DJ can find new ways to use this beast of a machine in a way that nobody could have imagined.
The possibilities are endless, and the flood gates are open. DJs can now get excited about the possibility of live remixing and expanding their musical creativity.
Will This be the gateway for DJs into the AV industry as a whole?
Stay Connected on Socials
Facebook | Instagram | YouTube
Click The Banner Below for Special Offer, How To DJ The Easy Way | Online Video DJ Course

Sources